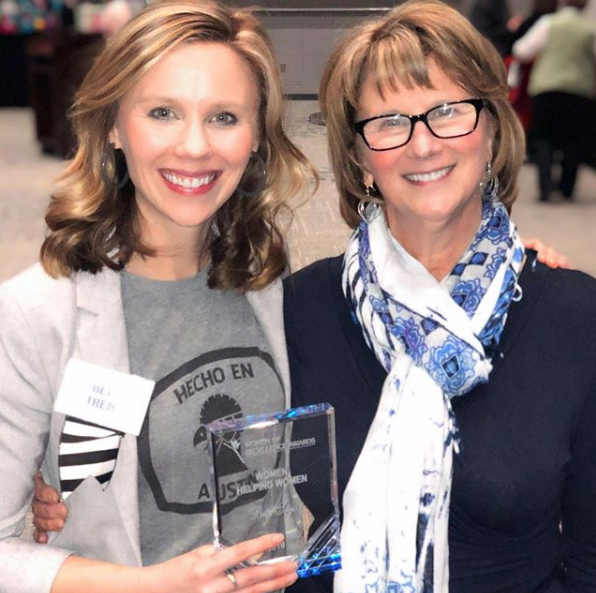 Although the woman honored in this award could be nominated in another, she is singled out here for her work to foster personal and social growth of women. As a trailblazing entrepreneur, this recipient could have been recognized for taking risks. Yet, it is her deliberate and visionary goal to advance the role of women in the "tech" industry and to enhance the potential of Siouxland women in order to create real change where her impact resonates through this community.
Defying the odds of successful female-founded startups, she not only prevailed, she grew her company with a predominantly female staff. Her business has been recognized as one of the 25 best Small Businesses for Women and was 14th in the list of the 50 best Small Companies to work for in 2017 by Business Insider. She locally mentors women and non-profits because she believes that high tech offers a fulfilling and unique career – and she launched a podcast in order to connect female leaders across the state of Iowa. She is kind, she is generous and she is a force.
Beth Trejo, of Dakota Dunes, was recognized by Women Aware as a woman helping other women through entrepreneurship and by serving the community as a volunteer for nonprofit agencies.
My vision as we launched Chatterkick was to be the business partner who offers compassion, flexibility and an innovative opportunity for businesses to tell their stories online. I truly wanted to build a company that was about more than just myself. I set out to create a team of individuals who were passionate, dedicated to their craft and always curious about the opportunities this rapidly changing industry was going to bring to our partners. It's so important to surround yourself with people whom you enjoy working with and who bring out the best in each other. We've found that mix of creative nerds and magic in our women-led team. My continued effort to connect female thought leaders, entrepreneurs, and people in technology across the state and beyond is fueled by the evidence that a female-driven team can not only make the dream work but can make it be the absolute best! I'm honored and humbled to receive this recognition and am looking forward to helping others be inspired and compelled to tell their story.